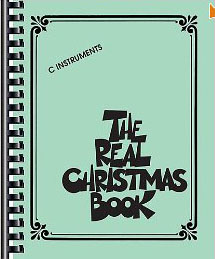 In December we did 2 gigs at the Fana kulturhus featuring christmas songs only  (with the exception of a few Shorter / Hancock tunes). The main source of printed music is The Real Christmas book which we stumbled upon. This book lead the repertoire in the direction of Amercian standards, such as "Have yourself a merry christmas", "I'll be home for christmas", "White christmas" and others. The advantage of this selection is that, due to the limited time available and required for rehearsals, we could treat it like any other standard material, more or less on the spot.
Other choices were A child is born, which thematically can be related to Christmas. Typical of the tune, are the Bb – Ebm changes, and the Gm – D7 which are good for solos, or for developing melodic ideas. Some fast playing were also tried out towards the end. Otherwise, not to rush is always a challenge.
Caravan, by Duke Ellington, also found its place in the set list. Scales of choice for the first part were a mix of f-min melodic and a Db lydian.
A selection of Christmas classics were; When you wish upon a star, Have yourself a merry Christmas and I'll be home for Christmas. "When you wish", here with some rather long up-tempo lines which is is not so typical for my playing. Also the repetetive rythmical motifs seem to be a reoccurring "lick" in these December sessions.  "Have yourself …" here in a slow tempo,also with some fairly long phrases, not much to add about it. "Ill be home ..:" with some long up tempo lines.   
Fee fi fo fum, here in yet another take, added for the sake of documentation.